Besides having a store at strategic location, another very important thing to consider is creating an appealing and attractive store display.  The right choice of retail space design and creative retail display will help to attract traffic and generate repeat sales.  Besides having elegant lighting, stores with smart retail display stand out from others and are able to persuade shoppers to come in, stay longer and return.
I have been to some stores which made me turn around and head to the exit right away because I feel very uncomfortable inside the store as the items were displayed in an unorganized manner.  It is very difficult to look for something when the store is not organized.  I personally feel very claustrophobic when I walk into a packed store with items all over the place.   Whether or not a customer decides to buy your item will depends largely on the style your product is displayed.   In some shops, items are poorly displayed hence projecting a 'cheap item shop' image which will not be able to drive high margin sales.
A great store design does not only mean having matching colours and specific theme.  Having optimal display products with appropriate size, shape, colour and design are vital to create displays that will get the customers attention.  Retail display equipment comes in all shapes and sizes.  Sturdy store displays are important to protect the merchandize as well as making them look good.
One such place where you can find good quality display equipment is at FixturesandDisplays.com.  They are one of the premier suppliers for marketing store display collections, professional kitchen and restaurant products and many other store supplies.  You can also find a comprehensive listing of products necessary for any retail environment at Fixtures and Displays.
It is also a good idea to place items at different heights especially when the items are the same size.   This create a visual interest and keeps the customers' eyes moving around.    Slatwall is a fairly common choice of retail wall display for small and large shops.  It comes in a variety of colours and finishes. 
Slatwall Accessories
such as shelving, hooks, baskets, hangrails, shoe displays and many more are available to help merchandize your products.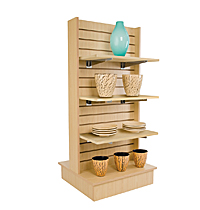 So, if you want to increase your sales or make your store more inviting and comfortable to shop in, do check out FixturesAndDisplays.com for some eye-catching display equipment.