Halloween is less than 2 weeks away.  My daughter has been asking that I buy her a Halloween plastic bucket for trick-o-treating.  As there will be no trick-o-treating over here, I think it is not a good idea to buy it.  Therefore I have decided to make one for her.   I logged on to Pinterest last night to find some ideas and chanced upon a few really nice and easy Halloween crafts for children.
painted mason jars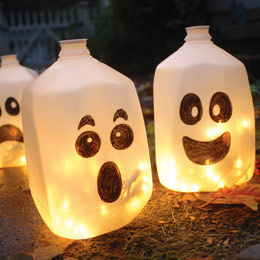 ghostly lanterns made from plastic bottles
I am going to try to do a couple of crafts with my daughter soon.  Hopefully she would forget about asking me to buy/make her a plastic pumpkin basket.