One of the biggest selling point that a property sells on at the moment is its character. They are even constructing new builds in the old Victorian style with high windows and iron railings. But no all of us are blessed with a characterful home from the get go. Luckily there are a few things we can do to inject a bit of personality into an otherwise blank canvas. Read on for some tips.
Range Cooker
Something that estate agents are always hearing is that people want a farmhouse style kitchen. A big part of that is having a massive enamelled range cooker.
Some people prefer the more traditional wood burners, while others are happy to have one that runs on conventional power but looks the part. In combination with a rustic style kitchen, a range cooker like an Aga can go a long way in bringing some character to your home. This even works if the property is brand new.
Attic Reading Nook
People also seem to respond well to homes that have small, comfortable spaces in which to cosy up and relax. A perfect way of creating a space like this is to install a reading nook in the attic or loft.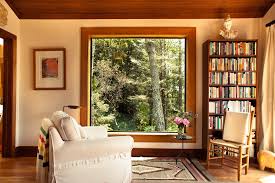 Before you start the conversion, you will need to get planning permission and make sure that the roof is in good condition. Depending on what your roof is made out of you may need to speak to a company that works with shingle repair. They can help you prevent nasty leaks in your new library.
Once you have the basics completed, you can choose to install a skylight, bookshelves or some covered seating. Add a lamp and a seriously comfy chair to allow you to have the most comfortable and relaxing experience.
Sunken bath
A relatively new trend in home design is the gorgeous sunken bath. The idea is that by sinking the tub into the floor, it becomes more of a bathing pool, than a traditional bath. Some ground floors bathrooms can house dug in cobwork baths, which are full of character and luxury at the same time.
If a cob bathing pool is a bit much for your home, then why not invest in a freestanding roll top bath. Popular in the Victorian period these are still around today and can help even the smallest room in the house be full of life and character.
Indoor Cottage Finishes  
It is entirely possible now to make even the newest and plainest of houses look like a country cottage from the inside. One way to do this is to have exposed brick walls. These are very popular with the industrial look as well as the country look that we see so much of at the moment.  If you cannot uncover the bricks, then you can buy brick tiles which will give you the same effect.
You can also install fake beams on the ceilings, These give the impression of the property being a traditional oak beamed house. Perfect for hanging swag from come Christmas!