The search for the wedding dress is probably one of the first things you start to do after you got the ring.  For many brides-to be, one of the first and most exciting wedding tasks to tackle is finding the dress.  It is indeed a magical moment but with so many shopping options, buying a wedding dress can get overwhelming and stressful.   There is no denying it that every woman wants her wedding dress to look the best.  After all, it is one of the few chances that a woman can look like a princess. A wedding gown will be the most elegant dress a woman would ever get to wear unless you get to go to the Oscars every year.
Having said that, this big day does add up and a woman would only wear the dress once.  An average amount of money spent on a wedding dress is around $1000. For brides who are on a budget, there are many affordable and beautiful wedding dresses available online.  One such wedding retailer is SuzhouDress.com.  This online retailer has a wide range of beautiful wedding dresses, sexy bridesmaid dresses, evening dresses, prom dresses and more.  Their gorgeous collection is tailored from the finest quality fabrics.
Long sleeve see-through tulle wedding dress
Buying online saves you a lot of time in your search for the perfect wedding gown and everything can be done with just a few clicks of a mouse.   It is really very simple and easy to select the dress of your choice.  You can browse through their extensive collection of quality and beautiful wedding gowns which comes in all kinds of styles and hues.  Whether you are looking for A-line, sheath, or mermaid wedding dresses,  Suzhoudress has got you covered.   Its website is easy to navigate and you can look through the categories located at the top of the page. Some of its stunning collection is available on sale right now.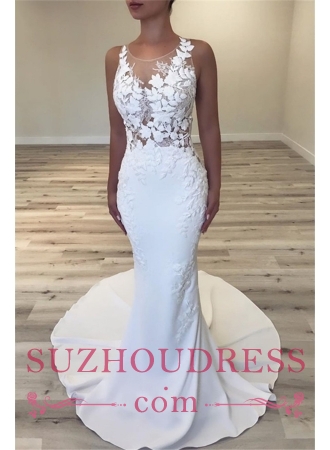 Do not let overpriced designer dresses get you down. You can totally rock some unconventional attire and still be the most radiant one in the room! So, hurry over and check out Suzhou wedding dress today for wedding dresses that are amazingly affordable, beautiful and look just as great as a million-dollar gown.