When it comes to your wedding day, you always have the final say. Whatever venue you want, you should get it. Whether you want to serve comfort food instead of the usual boring menu, it is all up to you. But when it comes to your bridesmaid dresses, you' have other people's opinions to consider. Eventhough it is your big day, you may also want the best people to look and feel great because after all, it is a celebration.  Therefore, it is important to consider your best friends and their comfort levels when you shop for bridesmaid dress styles.
Whether your wedding party is three people or 10 people, remember that everyone has a different body type and style preference. It is impossible to cater to absolutely everyone's preferences while doing your bridesmaid dress shopping, but it is important to be mindful of this. It does not need to be their dream look but choose a bridesmaid dress style everyone can get behind.
But there is a big problem with shopping for the most beautiful dresses you can find, the ones that any bridesmaid would gasp with amazement at.  So what is the problem?  Well it is no other than the price tag. Weddings can come with a pretty high cost and bridesmaid dresses alone can cost several hundred dollars each, even before necessary alterations or accessories like jewelry and shoes.
There are many places where you can shop for bridal and bridesmaid dresses online.  Please read on to find out more.
1) BHLDN
Owned by the same company as Anthropologie, this online shop features soft, whimsical gowns that are perfect for many bridesmaids.
2) Bird Grey
A direct-to-consumer bridesmaid brand that was founded in 2017. It has a range of cute dresses that won't break the bank.
3) Lulu
This online retailer offers mix and match styles of the same fabric. So if this is the style you are looking for, then you should check out Lulu. Prices are moderate and both shipping and returns are free.
AW Bridal has a range of minimalist dresses that will take your bridesmaids in a feminine direction.  Its amazing collection of gorgeous dresses, from the chic and casual to the oh-so-elegant come in a variety of colors and can be worn again.  Besides dresses, there are accessories such as bridal veil, robes, AW Wedding umbrellas and more,  At their website, you can easily narrow down your search by fabric, neckline, styles and more.  If you are looking for the lowest cost bridesmaid dress, AW Bridal is likely one of your best bets.
Gracia one-shoulder dress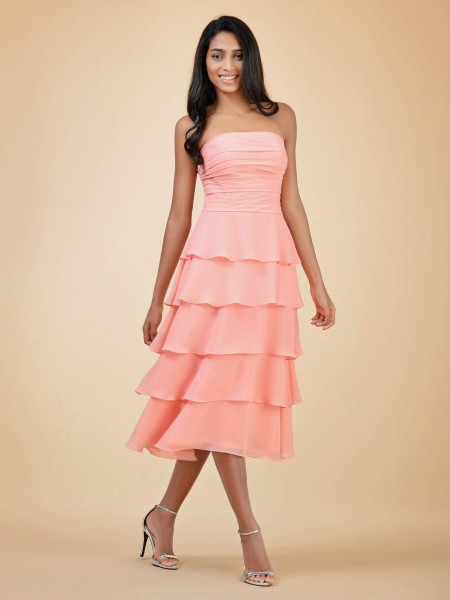 Anstice ruffled dress
Lucille tea-length robe
You can read more about AW Bridal Review online.
4)  Amazon
Some people may not be aware of this but one can also shop for bridesmaid dresses here.  You can find tons of Amazon dresses at discounted prices.
Online shopping provides relief with one-stop wedding stores for all your wedding needs. The online stores above have almost everything a bride could need and want for her big day.