Belly button piercing was highly popular in the 90's, thanks to cool celebrities like Janet Jackson, Britney Spears and more.   Arguably one of the most popular trends of the 90's and early '00s, most MTV watching youths, there is something liberating about rocking a silver or zirconia ring through the navel. Having your belly button pierced was the hottest thing to do and anyone who had a belly ring was not afraid to flaunt them at every possible moment.  The best way to show it off is by wearing low rise jeans and baby tee.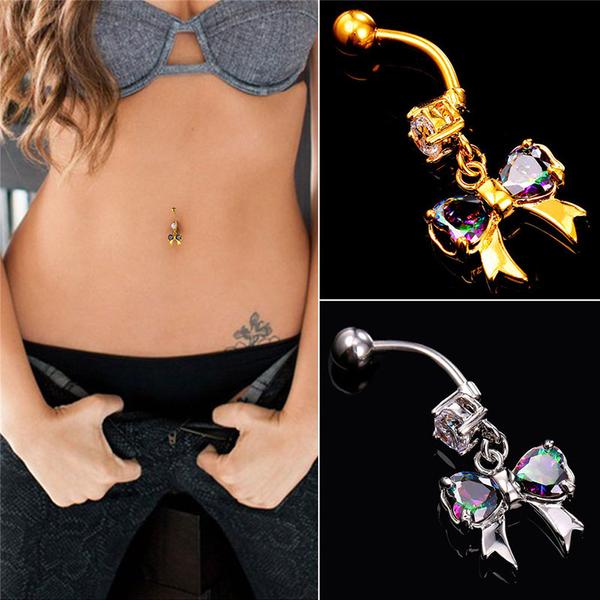 Just like many trends before it, the belly button piercing hysteria eventually faded, and the belly button became nothing more than the place your umbilical cord used to be.  However, with a major resurgence of other '90s fads like headbands, choker necklace, and scrunchies, it is clear that belly-button rings are not to be forgotten any time soon.  Many celebrities such as Jessica Alba, Priyanka Chopra, and Beyoncé were spotted with their belly button pierced.  Well, you won't see many of them showing it off on the VMA stage but you may catch a subtle glimpse of it on any given day in L.A.  Piercings are now the smallest must-have fashion accessory, seen everywhere from catwalks to billboards and adorning even the most conservative faces.
So if you are jumping on the piercing wagon and would like to rock the piercings like it's 2003, check out U7jewelry.com, an internationally renowned online jewelry store that has got everything you need to decorate your belly button.  This trusted jewelry store has been servicing customers and leading the way in jewelry fashion since 10 years ago. Their range of quality belly rings come in a number of materials including 18K Gold, 14G Gold, Zirconia and Platinum and with a huge range of belly rings in store, you are sure to find something you'll love.
U7jewelry also has a wide collection of jewelry such as personalized name necklace, anklet, Medical Alert Bracelet, rings, bangles and more.  They aim to provide simple & stylish jewelry that you can wear every day.  Using the best electroplating technology and stringent quality control, all of their products are high-quality and environmentally friendly as well as safe to wear.   Therefore, if you are looking for affordable fashion accessories, do hop over to U7jewelry.com today. When the sun is out and the bikinis are on, few things make you look hotter than a toned stomach is a belly button piercing. This is the kind of look you can sport all year long.