Valentine's Day is approaching and it is one of the most romantic days of the year.  This also means that it is time to show appreciation and affection for the one you love. While chocolate boxes, flowers and teddy bears are classic gifts for a reason, you may want to get a unique Valentine's Day gift to wow the special woman in your life.
Some gifts are practical and others are more romantic but if you would like to take a more personalized route, then a customized jewelry name necklace is perfect to symbolize your love.  Jewelry makes an eye-catching finishing touch to any ensemble.  Help her change her look by treating her to a get namenecklace.  Getnamenecklace's customized necklace is the ultimate gift to express your affection and commitment to the special person in your life.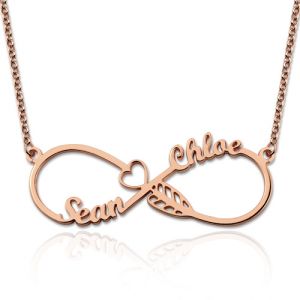 At Getnamenecklace, there is a variety of styles and designs that she will absolutely adore.  The Infinity necklace like the above symbolizes giving something without limit and given as a gift, this necklace can be a reminder of your endless love and care for someone special to you.
The Getnamenecklace Infinity Necklace is also available in sterling silver.  Check out  product841 below.
Carrie style name necklace is also another popular gifting choice.   It is a replica of the nameplate necklace that Carrie Bradshaw of the incredibly popular HBO Series, Sex and the City wore.  If you have a fan of this series in your gifting list, then this is definitely a must-have.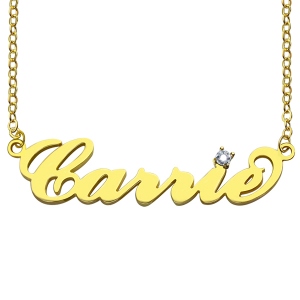 This laser cut and hand-crafted Sterling Silver or Solid Gold Name Necklace features a timelessly elegant name pendant draped beautifully on a Rolo chain.  You can even get this customized with the wearer's name.
Getnamenecklace's collection is versatile enough for everyday wear. These necklaces are classy beyond expectations. They are perfect gifts for loved ones and friends. Wrapped with loads of love, these dazzling necklaces are perfect choices to strengthen your relationship with the ones you adore. You are sure to find the perfect one to symbolize the commitment and love you cherish.   Hurry and check them out (HERE).