It is, after all, the biggest American sports event of the year.  At the Super Bowl tonight which was held in Miami, everyone was talking about the latest on Jennifer Lopez and Shakira's half-time show.  The main draw of the night was these two women, bringing attention away from the men playing around them.  The performances by J Lo and Shakira were full of energetic dance moves, performers, crowd surfing, pole dancing while they belted out their famous hits.
Shakira kicked off the performance by launching into a musical medley of her songs and even on the drums.  Lopez was, of course, swiveling on the dance floor and even worked on a pole.  After all, hips don't lie.  JLo even did a performance with her daughter, Emme Maribel Muñiz, and a choir of children, singing Lopez's "Let's Get Loud" and a snippet of Bruce Springsteen's "Born in the U.S.A.," as Lopez appeared wrapped in a feathered American flag cape that turned to a Puerto Rican flag. It looked like recognition for both Puerto Rico and the American-born children of undocumented immigrants – the Dreamers.  Strong message here.
These 2 Latina singers brought back the kind of fireworks everyone last saw with Lady Gaga's 2017 half-time show. Jennifer Lopez and Shakira were perfect picks, both electric and effortless, singing and dancing their way through a frantic dual turn, equally impressive alone and together.
Shakira in a fiery red outfit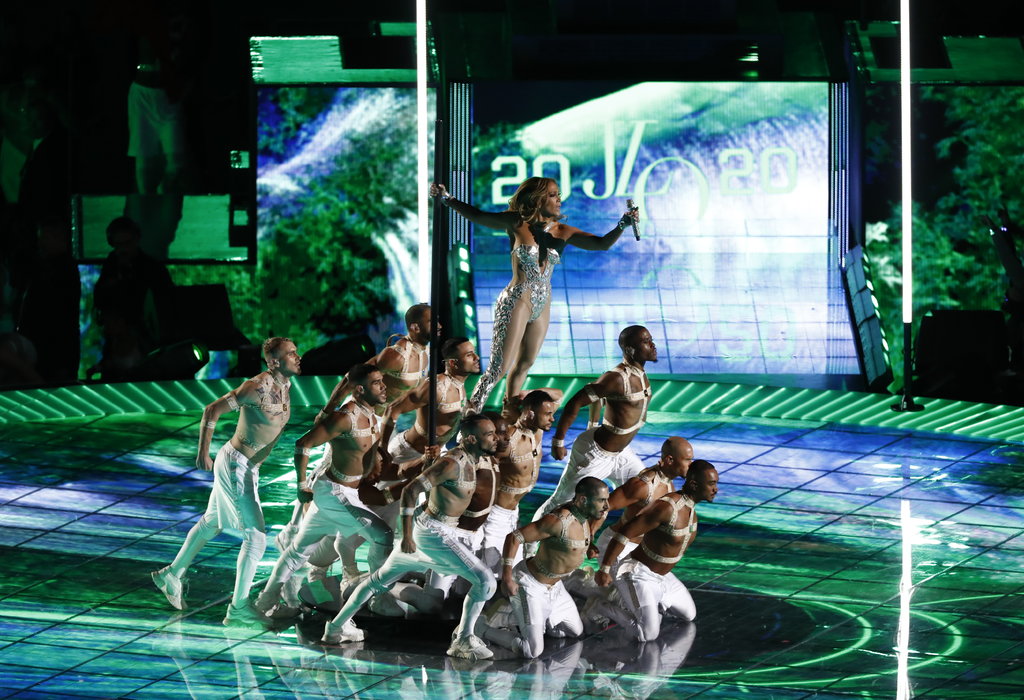 Jennifer Lopez with her daughter.