The search for the ultimate wedding dress is probably one of the first things a bride starts to do after she received the ring.  For many brides-to be, one of the first and most exciting wedding tasks to tackle is finding the dress.  It is indeed a magical moment but with so many shopping options, buying a wedding dress can get overwhelming and stressful.  There is no denying it that every woman wants her wedding dress to look the best.  It is, after all, one of the few chances that a woman can look like a princess. A wedding gown will be the most elegant dress a woman would ever get to wear unless you get to go to the Oscars every year.
Bold and sexy is the new trend now. If you want to walk down the aisle in a fairytale gown and still look sexy, remember not choose a too revealing dress  because you do not want to look tacky on your wedding day.  Want some inspiration? Then, let's get started and have a look at the incredible sexy wedding dresses (https://www.babyonlinewholesale.com/sexy-wedding-dresses-c28) for the brides, who are ready to reveal a bit more than traditions demand.
The off-shoulder dress with long-sleeves  (https://www.babyonlinewholesale.com/court-train-applique-lace-mermaid-long-sleeves-off-the-shoulder-wedding-dresses-g8211?cate_2=28) is the perfect balance.   What a romantic and sexy wedding dress.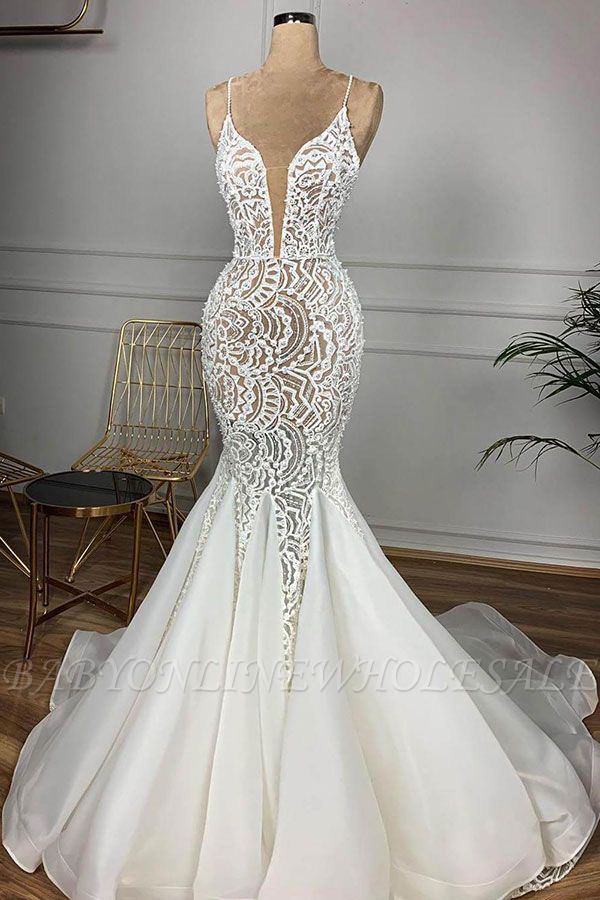 Luxury Spaghetti Strap with Plugging V-Neck Sleeveless Mermaid Wedding Dress (https://www.babyonlinewholesale.com/luxury-spaghetti-strap-plugging-v-neck-white-sleeveless-mermaid-hollow-wedding-dress-g14924?cate_2=28)
Despite being a little bit revealing, this mermaid wedding dress from babyonlinedress (https://www.babyonlinewholesale.com) has is well covered in lace, creating an elegant look.
Deep V-Neck Wedding Dresses Over Skirt Shher Tulle Lace Appliques Wedding Dress (https://www.babyonlinewholesale.com/deep-vneck-appliques-wedding-dress-g3810?cate_2=28)
The latest bridal trend is all about see-through material that exposes a little of what's underneath but in a sophisticated way.
Beautiful sheer fabrics and strategically placed lace are some of the sexiest and most revealing brides dresses you can buy. If you want to look for more ideas, do head over to Babyonlinewholesale (https://www.babyonlinewholesale.com/), a leading global dress and fashion manufacturer with an extensive range of sophisticated and elegant wedding dresses.