You may have already said yes to the dress, but now comes the second biggest challenge when it comes to wedding fashion snd that is finding bridesmaid dresses that will flatter each of your attendants on your big day.  This is the second most important dresses after a girl's prom night.  Choosing a bridesmaid dress is a fun, bonding activity that the bride and her closest girlfriends will get to experience together.  Having a clear line of communication with them throughout the process of choosing a bridesmaid dress will result in everyone's happiness.  Deciding on the bridesmaid dress vision is such an important step in the process. It is really important to make sure the bridesmaid dresses match the season which the bride will be getting married in.
So if you are planning a more casual wedding, then tea length bridesmaid dresses will work just fine.  Tea-length dresses are dresses with a hemline that falls just below the knee or brushes the lower calf.  They are having a serious moment this year. This semi-formal length gives off a fun, retro vibe but still feels sophisticated.  Formal enough for a special occasion yet full of personality and movement, tea-length bridesmaid dresses are always in style.
Below are some of the most beautiful tea-length bridesmaid dresses from Yesbabyonline.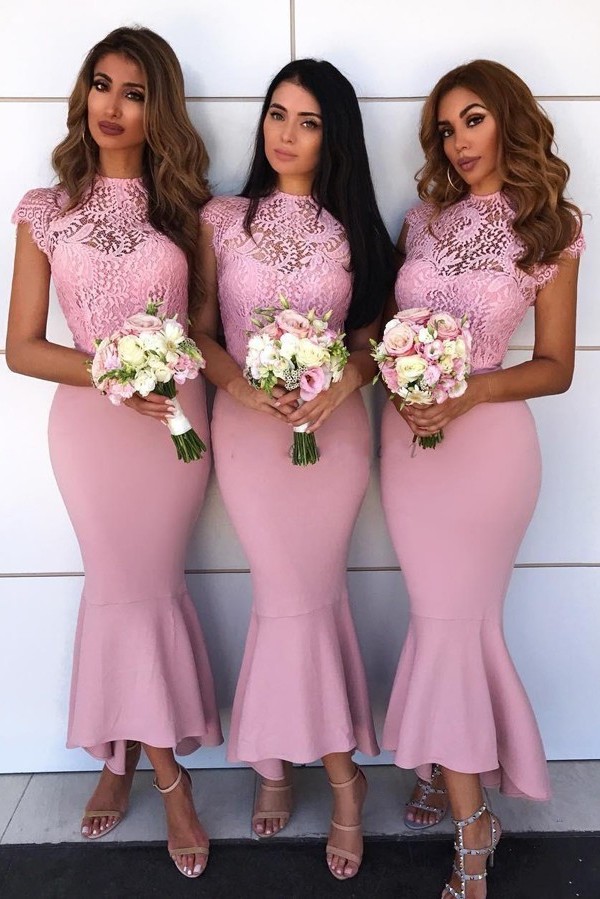 A mermaid silhouette will look magnificent and delicate lace is the finishing touch to this stunning look. These tea length lace mermaid gowns are timeless, and your squad will look back on their photos and smile.
When the temperature drops or if your girls prefer to cover up, you cannot go wrong with a dress with sleeves. These off-shoulder style with lace sleeves are figure-flattering.
Your closest friends will glow with confidence as they celebrate your marriage in beautiful tea-length bridesmaid dresses perfectly paired to the wedding theme.  As you plan your big day and scout out the best styles for your celebration, Yesbabyonline is here to help every step of the way.