As summer gets closer, the weather is getting hotter. Your hair wig is also time to be updated. Changing a more breathable and comfortable hair wig for summer is necessary.
What kind of hair wigs are suitable for summer? There are a lot of choices, including headband wigs, short bob wigs, HD lace wigs, etc. I especially recommend HD lace wigs today.
HD lace wigs are kinds of lace wigs, and they have high definition laces that are more transparent, lighter, thinner than regular Swiss laces. People will feel more breathable and comfortable on hot summer days. Wearing an HD lace wig also can offer you a complete hairline and a more real and natural wig look. HD lace wigs are special lace wigs that can melt into all skin colors perfectly with seamless blending capabilities. One HD lace wig can satisfy both these requirements: beauty and comfort. Then I will introduce the top three HD lace wigs in West Kiss Hair, please kindly read on.
1. Body Wave HD 13×6 Lace Front Wigs
The first wig is put together from a charming hair texture – body wave hair and a popular wig type – 13×6 lace front wigs. Next, I will view this body wave HD 13×6 lace front wig from the above two perspectives.
1.1 Body Wave Hair
Body wave hair is a special hairstyle. It is one kind of wavy hair. But it has bigger and looser curls than other wavy hairstyles. This unique appearance makes a woman look mature and graceful. A body wave hair wig always has a different feeling than other hair wigs. That is why this hair texture is one of the top choices for many women.
1.2  13×6 Lace Front Wigs
The 13×6 lace front wig is one kind of lace front wigs. 13×6 is the size of the lace frontal – 13 inches wide with 6 inches deep. The wide width of a lace frontal can cover a human's forehead from ear to ear to offer a complete hairline. Deep depth of a lace frontal also can offer people a deep parting space for style versatility achieved, it can be part anywhere.
2.  Curly Hair HD 13×4 Lace Front Wigs
This curly HD 13×4 lace front wig has a different hairstyle and similar wig type from the above body wave HD 13×6 lace front wig.
2.1  Curly Hair
Curly hair is one of the most popular hairstyles in all hair textures. Many customers love it, especially African American women. Curly hair is curled by tube number six, it has tighter and irregular curls than body wave hair. Curly hair reflects a different feeling from body wave hair. It can help to thicken and increasing the hair volumes and make the wig fluffy and soft.
2.2  13×4 Lace Front Wigs
13×4 lace front wigs are similar to 13×6 lace front wigs. Their lace frontals are both 13 inches wide. But the depths are different. The depth of a 13×4 lace frontal is 4 inches deep.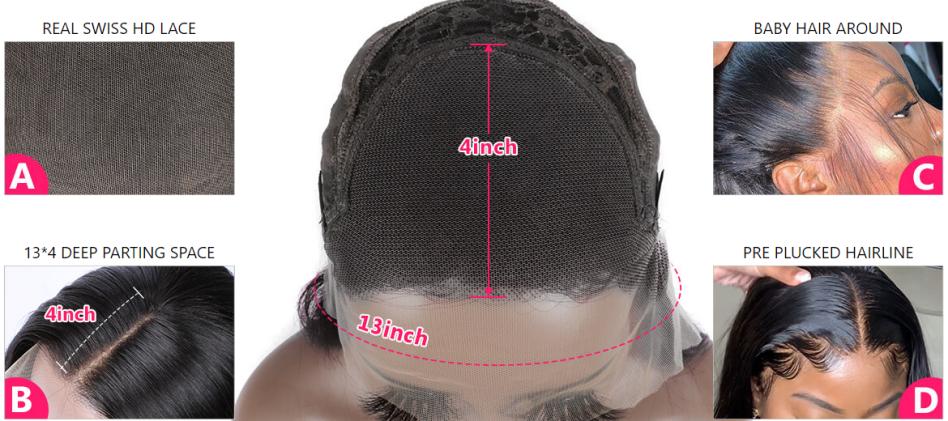 3.  HD 6×6 Lace Closure Wigs
This HD 6×6 lace closure wig is different from both above HD lace frontal wigs. It has smaller lace areas. Every HD 6×6 lace closure wig has a 6 inches wide with 6 inches depth lace closure that is set in the middle of a human's forehead. It is a beginner-friendly wig that is easy to install, even no need to use glue. The prices of HD 6×6 lace closure wigs are also more competitive and affordable than HD lace frontal wigs. If you have a limited budget, you can consider buying this wig. It is a high-cost performance HD lace wig.
4.  What Are The Difference Between These 3 Kinds Of HD Lace Wigs?
The main difference between these three kinds of HD lace wigs is the size of lace. Different HD lace wigs all have their own advantages. People can choose their preferred HD lace wigs freely. No matter what kinds of hair textures, hair colors, or wig types, etc. You can find a satisfying wig in West Kiss Hair.
5.  How To Choose The Suitable HD Lace Wigs
There is a glittering array of HD lace wigs to choose from at the wig market. You can choose one of them as you like, just follow your heart. Picking an HD lace wig you will enjoy, and that is the suitable one.
Media Contact:
Phone: +8618703818335
Service Email: service@westkiss.com
Media Email: market@westkiss.com
Website: https://m.westkiss.com/