There comes a point in every summer where the urge to shop for breezy and light dresses and then there will be a little too practical voice in our head that ask just how long will we get to wear this for? Why not think about the cooler weather and shop for fall fashion instead?  Well, what do you know, the little voice is right.  Halter necks and satin material do come with an expiration date in some parts of the country where temperatures tend to dip way before we are ready.  However, summer dresses and fall dresses do not have to be in two separate sections of your closet.
There are many options that can easily work for both season whether they are designed that way or can be tweaked with additional layers. After a year of wearing loungewear, many are tuned into the Fall 2021 collections to pore over the trends of fashion's favorite season.  Ahead are some of the few women dresses online that work for Fall 2021 but at the same time you do not have to sweat on a hot day this summer.
Shirt Dress
If you are looking to embrace seasonless casual clothes for women, you will definitely want to add a shirt dress to your wardrobe.  Besides being a throw-on-and go piece for warm summer days, it can be layered over a turtle neck and paired with boots once things cool off.
Cottage Inspired
Cottage inspired look is going to be sticking around for the remainder of 2021 so if you feel the urge to get yourself a paisley print smock dress, do go ahead.  Add some interest and warmth in the fall with riding boots or dad sneakers.
Denim Dress
This piece will work for a variety of style preferences, be it preppy, '90s, '70s, cottage-inspired and etc. Transform this simple denim dress by adding layers and accessories.
Belted Dress
Belted details have been on the rise and this waist-cinching dress offers so much more.  It is long, airy and keeps you comfortable when the temperature rises.  The long-sleeve design will offer some protection on a cold fall night.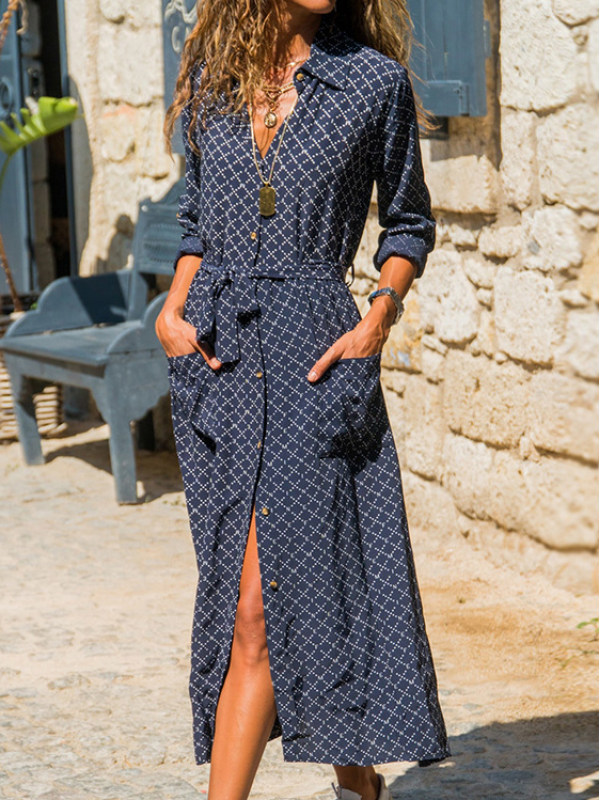 While it may still be hot outside, there is no harm in doing a little pre-fall planning to get your closet in order before the summer ends. The cuts may be summery but the colors and patterns are transitional. Check out more fall dresses to shop for at
Holapick
for your first round of shopping for autumn.